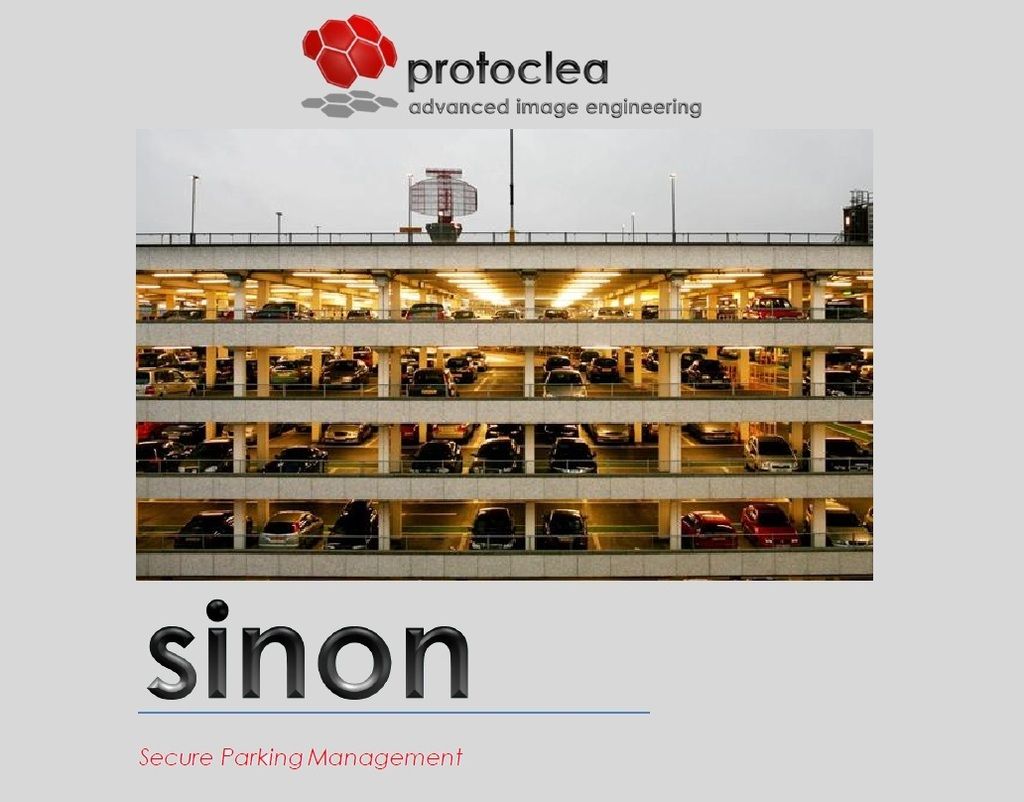 The Sinon Parking Management Solution
Parking areas are areas that are often devoid of human activity for long periods. This make them easy targets for a number of criminal activities, including vehicle theft and hi-jacking. To solve this, operators have used a number of techniques and in particular ANPR(Automatic number plate recognition) has proved extremely successful, if implemented properly.
Protoclea has developed a parking management solution which is designed for very large and active parking areas as well as very small parking requirements.
The success of a security system lies in the fact that it should control the information at its disposal and limit the possibility of theft and fraud. The SINON ANPR system offers the following key features
Performance
· Exceptional high level of vehicle detection under all-weather conditions as well as day/night operations. By using dedicated ANPR cameras we are able to mitigate the effects of vehicle headlights, sun light and other reflections. In addition, the images are all pre-processed to enhance the reading capability and this is followed by a very powerful character recognition system. The system is able to read any number plate used by all countries in the SADC region, even personalised plates. It is also capable of reading plates at narrow camera angles, allowing more camera installation options.
· In addition to number plate capture the system is able to capture an image of the driver's face as well as an overview of the vehicle itself.
· Additional features include vehicle colour detection as well as a sophisticated means to ensure that drivers actually look into the camera when triggering the device. This is done through a face detection system which could be upgraded to include facial recognition if required.
· In all ANPR applications the system must be triggered to execute the frame grabbing event. The SINON system offers multiple options ranging from detection in free-flow mode (up to 300km/h) through to camera motion detection or direct trigger through card/ticket dispensing, button pressing or magnetic loops.
Data Management
· Detection is only part of the game though. Behind the system is a powerful database management system which manages the access flow in the facility. This could include simple logging of vehicle traffic to matching entry and exit events for complete transactions.
· Security is fundamentally provided by ensuring that the vehicle only leaves the premises while being driven by an authorised driver. While biometric identification would have been very useful, this is a problem in an environment where a different driver may enter than the one leaving with the vehicle. A simple solution is to give the driver an identifying tag, typically in the form of a parking ticket, which will match the ticket with vehicle on exit.
· Fraud is a major problem in many systems and for this reason there is strong evidence that the ANPR system should be independent, but integrated into the payment system. Integration to the payment system is relatively straightforward although it does depend on the supplier. Protoclea is in a position to develop any interface as may be required and have done so on numerous occasions.
· Using an ANPR system it is easy to find owners of vehicles with lost tickets and instead of annoying them by paying a penalty for the loss of the ticket, the entry event can easily be found and a new ticket be issued and the correct fee be charged.
Sinon Information Management
· ANPR systems can also be used in many other ways:
o Fully automated entry for loyal customers can be provided to ensure rapid entry and exit and improve the general traffic flow. This can be extended to linking the payment system in such a way so as to open the boom automatically if the ticket for a specific vehicle has been paid.
o Full management of cargo vehicles can offer high security at the cargo areas
o ANPR system can be used to build public relations with clients and especially regular clients. The system can welcome regular visitors by using display boards and where detail information is available such as personalised messages on leaving and returning could be offered.
· The SINON system can integrate or exchange information with the e-Natis system and also with the Police's stolen vehicle database. If the local municipality has its own database of vehicle offenders, Protoclea has the expertise to integrate to that as well. Such sharing of information can further assist in reducing crime. These arrangements must be concluded by the user.
Customer Relations
Using the Sinon Parking Management system, many advantages can be given to Parking Lot security.
· Automatic entry for white lists can be provided so that authorised vehicles can automatically pass.
· Welcome and Send-off messages can be presented to customers of the mall or complex. This will make customers feel special.
· Analysis of data will offer extensive management features to assist with vehicle flow trends, parking access efficiency, and so on.
Sinon Support
· Protoclea also offers an automated health management system. This system can be added to monitor the ANPR system in terms of subsystem communications, camera availability, detect dirty lenses or cameras pushed out of position and so on. It can automatically inform maintenance personnel of any failure to reduce downtime to the minimum. This system can be expanded to also monitor standard CCTV systems.
· Last but not least is the final support of such a system. Protoclea strongly recommends a service support contract (SLA) to ensure a high level of availability of the system.
Conclusion
The SINON system is a comprehensive vehicle management solution. It has the further benefit of being a South African product, offering our clients direct access to developers and the ability to customise the system to specific requirements.
ANPR need not only be a security measure, it can enhance the environment to the benefit of drivers and complex owners alike. It is time to realise that security systems do not have to be a separate, yet necessary "grudge" purchase, but rather a desirable, integrated business tool that offers valuable information whilst adding assurance, comfort and convenience features to both sides of the parking garage user spectrum.
This is a brief description of some of the features available in the Protoclea SINON ANPR system. For further discussions please contact us to arrange for a personalised demonstration.
Protoclea Product Information Request
To download product brochure please fill in the form below.
Required *